«Welder» Magazine 2021 №02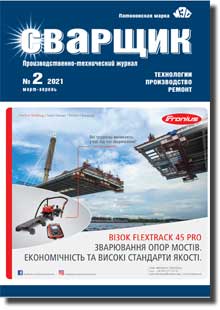 «Welder» Magazine 2021 №02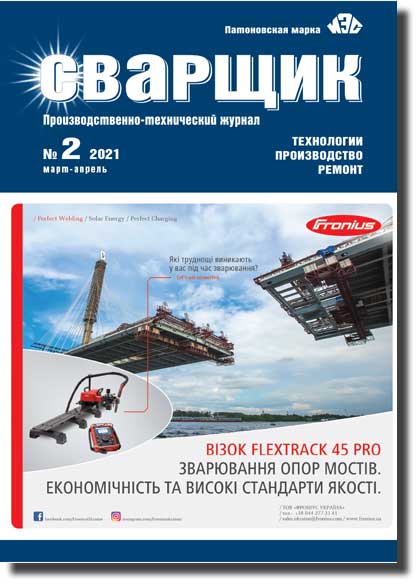 Congratulations ... 4
News of engineering and technology ... 5
Technologies and materials
On the optimization of temperature fields during layer-by-layer formation critical products made of titanium-based alloys. A.S. Milenin, E.A. Velikoivanenko, G.F. Rozynka, S.S. Kozlitina, N.I. Pivtorak ... 6
Repair technology
Restoration by welding of unique basic parts industrial equipment ... 10
Aluminum alloys for welded structures
Review of foreign experience in technologies for producing aluminum alloys and manufacturing welded transport structures from them. Part 2. T.M. Labour, O.K. Makovetskaya ... 12
Equipment for the production
Oxy-fuel cutters FLC-RK and FLC-RKF for cutting of large cast profits. V.M. Litvinov, Yu.N. Lysenko ... 17
Innovation in industry and welding production
On the need to intensify innovations in industry and welding production. Part 1. Industry. G.I. Laschenko ... 20
Efficiency of equipment for heat treatment of welding electrodes.
System of the efficiency of gas furnaces for heat treatment of welding electrodes. E.P. Shelepov ... 24
Our consultations ... 29
Novelties of equipment for robotic welding
Robotic welding of the roof of the metro wagons R.A. Gorb, V.A. Doroshenko ... 34
Intellectual property for science and industry
Features of patent protection in the European Union. I.V. Bernadskaya ... 37
Personnel training
The skill is confirmed by the victory! ... 40
In memory of B.E. Paton
Academician Boris Paton: "... It's like climbing a high peak. You begin to see what previously was not available to the look" ... 42
Throne for B.E. Paton ... 47
Contribution of the E.O. Paton EWI in scientific and technological progress.
In memory of the B.E. Paton
Welding and related technologies – for combat rocketry. Part 3. Extension of the power of the combat strategic missile of the first generation. L.M. Lobanov, A.N. Kornienko ... 48
«All for Welding». Trading series 54