«Welder» Magazine 2021 №04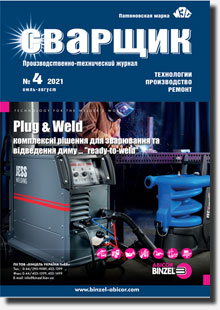 «Welder» Magazine 2021 №04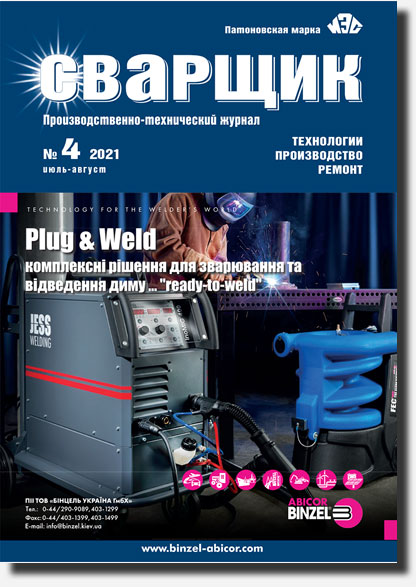 Congratulations!
Vladimir Nikolaevich Lipodaev is 80 years old! ... 4
In memory of D.A. Dudko
100 years of Dudko D.A ... 6
Repair technology
Repair of the body of the striker of a forging press with a force of 5000 tf. Part 1. Cutting a crack and surface preparation of body pieces for electroslag welding. V.M. Litvinov, A.E. Merzlyakov, S.N. Kosinov, A.A. Zadorozhny ... 7
Equipment for the production
Oxy-fuel cutter RKVD for melting of defects on forgings during their manufacture. V.M. Litvinov, Yu.N. Lysenko ... 10
Labor protection during thermal cutting and straightening
Occupational health and safety during thermal cutting and straightening, flame processing of materials in working conditions machine-building enterprises. V.I. Panov ... 14
Control of welding processes
Intelligent control of welding processes as a competitive advantage ... 17
Technologies and equipment for welding metalware
HBS is a leader in metalware welding technology ... 19
Standardization
Analysis of modern legislative and regulatory requirements for welding products in the context of the implementation of national legislation in the field of technical regulation in the international with the aim of the possibility of exporting welding products to European countries. Yu.K. Bondarenko, O.V. Kovalchuk ... 22
Personnel training in production
«Ilyichevsk shipyard». «Day of the welder of Ukraine». V.G. Levitsky ... 40
Intellectual property for science and industry
Computer programs and databases: protection of the software developer and the owner of the rights to it. I.V. Bernadskaya ... 41
Memoirs about B.E. Paton
R. Ryulman, B.E. Paton and the Columbus egg - for the priority of N.N. Benardos.
A.N. Kornienko
... 44
Contribution of the E.O. Paton EWI in scientific and technological progress.
In memory of the B.E. Paton
Welding and related technologies – for combat rocketry. Part 5. The second generation of ICBM-s – the birth in the conditions of external and internal competition. L.M. Lobanov, A.N. Kornienko ... 49
«All for Welding». Trading series 54